A little bit of history about the original use of the property.
The manor house was built in 1850 as the home of a wealthy family. In 1900 the house was purchased by a Parisian who had a physically disabled daughter, Marguerite. Because of her, he wanted to live a healthier life on the countryside. In 1900 he therefore started a poultry breeding: Etablissement d'Aviculture Ste Marguerite, named after his daughter. Until about 1926, the poultry breeding has been in operation. Then the little birds disappeared and the property has been empty and in decline for years. In 1994 the restoration began. Until today the many antique ceramics on the façade make us remember those days. The original name on the facade "Etablissement d'Aviculture Ste Marguerite ', which was almost completely faded, was restored in the autumn of 2007
---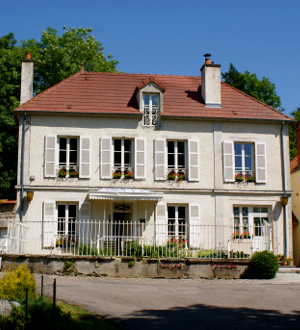 Manoir Bonpassage is a restored 19th century manor house with its own special style and character, on the edge of the village of Thury. The Dutch owners, Ruud Rijsbergen & Annemiek van Iersel, will be pleased to welcome you in a warm and personal ambiance.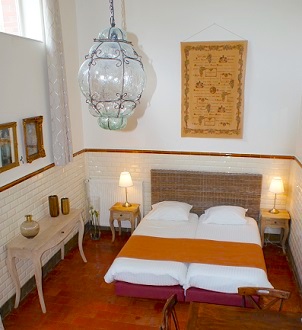 Manoir Bonpassage has 8 comfortable rooms with en-suite bathrooms. On the first floor, 6 double/twin rooms are located as well as the suite for 2 persons with a separate living area. On the ground floor there is a very spacious room for 2 persons, with a lounging area and an entrance to the terrace.
Manoir Bonpassage has a lounge, where you can relax after an active day. Here or on the garden terraces, we will be pleased to serve a variety of drinks; from a small espresso to a good glass of burgundy wine.
---


And don't forget to take a refreshing plunge in our swimming pool or to just relax and enjoy the environment lying on one of our comfortable sunbeds on the terrace. The swimming pool will be open from 1st of May until 30th September, depending on the weather conditions.